Georgie by Curtis Stone is a restaurant rooted in tradition - a nod to times past when concepts like community, honoring the land and celebrating artisans mattered. With a dedication to exceptional hospitality, details that promise to awaken the senses, and a commitment to not only using the best product available, but to ensuring our choices are intentional and environmentally responsible, we inspire to provide a restaurant and dining experience that is unparalleled.
Curtis and Luke Stone were first exposed to livestock farming on their grandmother Gwen's farm, which instilled in them great respect for the process of raising animals for food.
The brothers each started their careers in a butcher shop, before Curtis went on to cook in Michelin-starred restaurants while Luke honed his business acumen as the owner and manager of a corporate florist business in Australia.
Before the brothers and restaurateur Stephan Courseau opened Georgie, Curtis opened his first solo restaurant, Maude, in Beverly Hills followed by the opening of Gwen, Curtis and Luke's first joint-venture.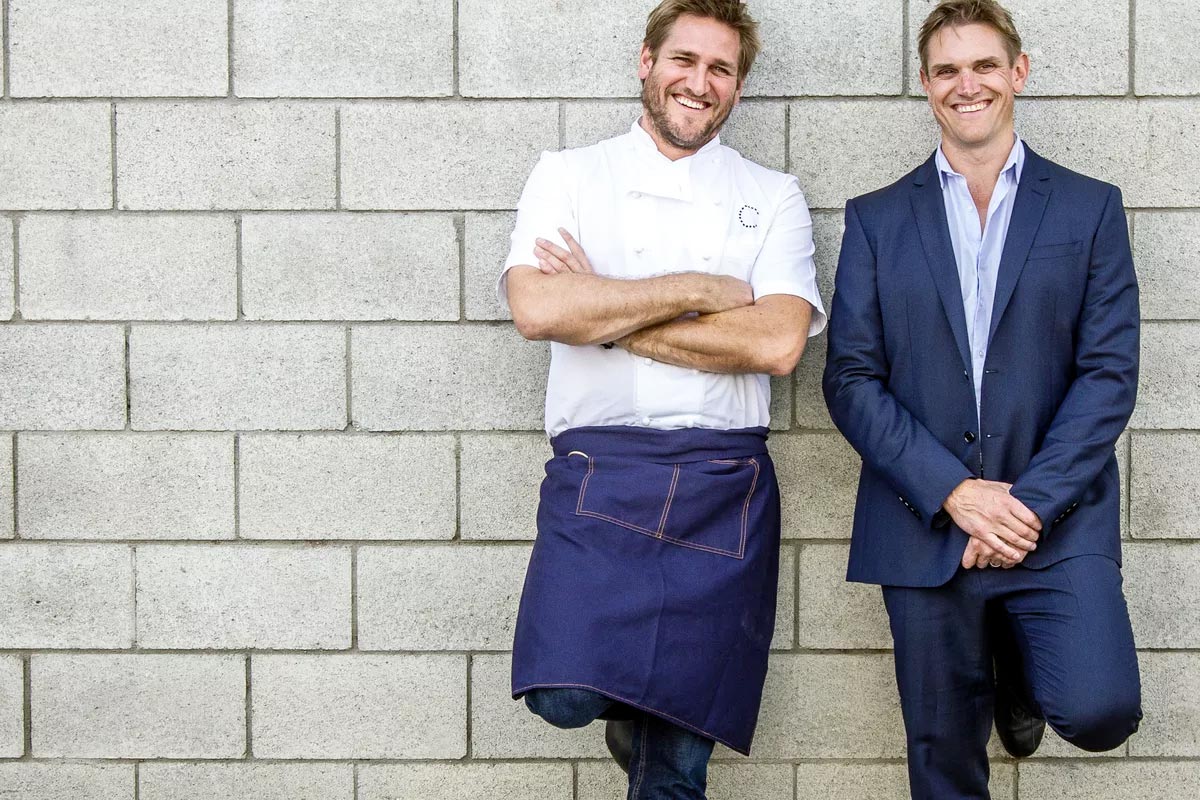 Stephan has spent more than 30 years working in various leadership roles in the restaurant business. Along with working for notable restaurateurs / chefs including Alain Ducasse, Daniel Boulud, and Jean Georges Vongericthen, one of Stephan's earliest positions was as General Manager of the original Le Bilboquet in New York. In 2011, Stephan and his wife, Daniele, moved to Dallas with the purpose of opening the second location of Le Bilboquet, a NYC institution that Stephan used to work for. After successfully establishing Le Bilboquet as a Dallas mainstay, Stephan & Daniele applied their cultivated design aesthetic coupled with a hands-on approach to hospitality and opened their second restaurant, Up On Knox, in 2017.
For their third restaurant, Stephan was looking to bring the type of flawless execution he had witnessed when working for amazing Chefs and have an elevated menu coupled with an ethical meat offering, including a butcher shop. This led him to Curtis Stone and his partner & brother Luke, who had already successfully used these components at Gwen Restaurant & Butcher Shop.
Team
---
"The best place to work and the best place to eat"
We are passionate about this statement. We are a proud team that continually learns, teaches and refines. We genuinely care and respect our guests.
Christian Dortch
Executive Chef
Edward Goemans
Managing Partner