Community
Meet our community of farm and craftsman partners.
Our Craftsman Partners
---
From Paris to Dallas, the individuals who have lent their skills and talent play a specific and vital role in the mosaic that makes up the visual and tactical experience at Georgie. Each component that makes up the entirety of the restaurant tells a unique story of the talented craftsmen in our community and beyond who contributed to the vision set out before them by GRT Architects and the owners at Georgie.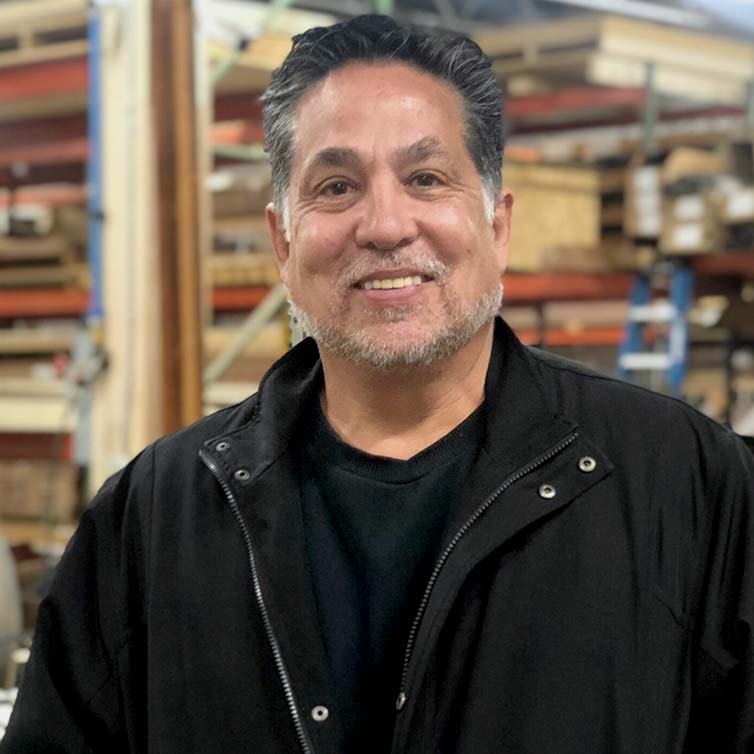 Dallas Door Designs
"A lot of detail and care went into creating the exterior for Georgie, including sliding doors, bi-folding windows, and shutters. I assisted the Stephan in choosing the antique glass that make up the door and windows facing Travis Street and each carefully selected component of the design works well together to make the restaurant beautiful." - Patrick Antognelli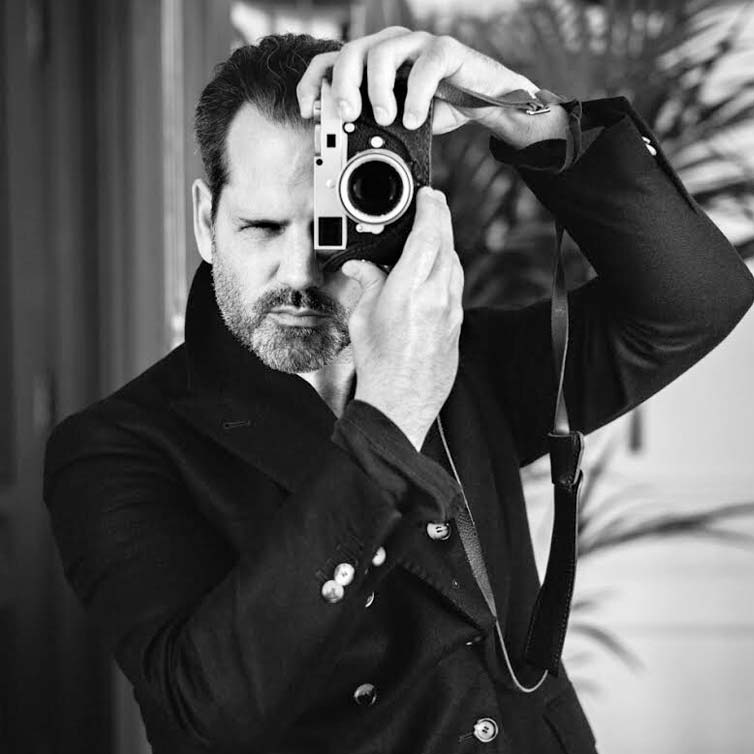 Julien Drach
French photographer, Julien Drach admits his photos look very close to a painting, but it's definitely a photo you see. It's a print from a vintage polaroid and part of a photo series called "Still Life Polaroid" shot in his studio in Paris in 2017 at the famous artistic Saint Germain des Prés district, where he shared his friend Stephan Courseau originally discovered his artwork. I wanted to capture a sexy Parisian / Italian mood from the end to the '60 - '70 era, and the leaves of the plant give it a twist.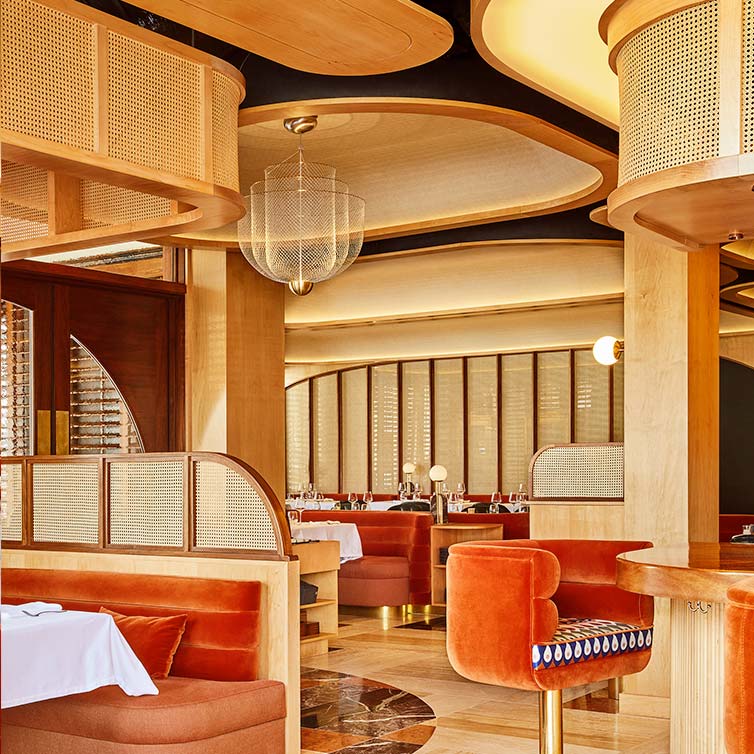 GRT Architects
Georgie is a new take on classic restaurants from an era when dining was an affair and a feast. GRT Architects turned to that bygone era as an inspiration to design a contemporary restaurant that showcases sumptuousness without heaviness, indulges materiality while embracing a sense of play. Georgie is a welcoming, inclusive space that honors tradition without feeling traditional. Transparency is at the heart of the design.
The various elements of the room are in constant visual dialogue and attest to the many layers of space and activity-- caned dividers revealing an open kitchen, a bar that is accessible from all sides and beckons from across the street, interior windows that give diners views of the butcher shop, the dry-aged room and wine storage. This layering and transparency enhances and celebrates a restaurant concept based on sustainable, locally-sourced and mindfully-grown products and livestock.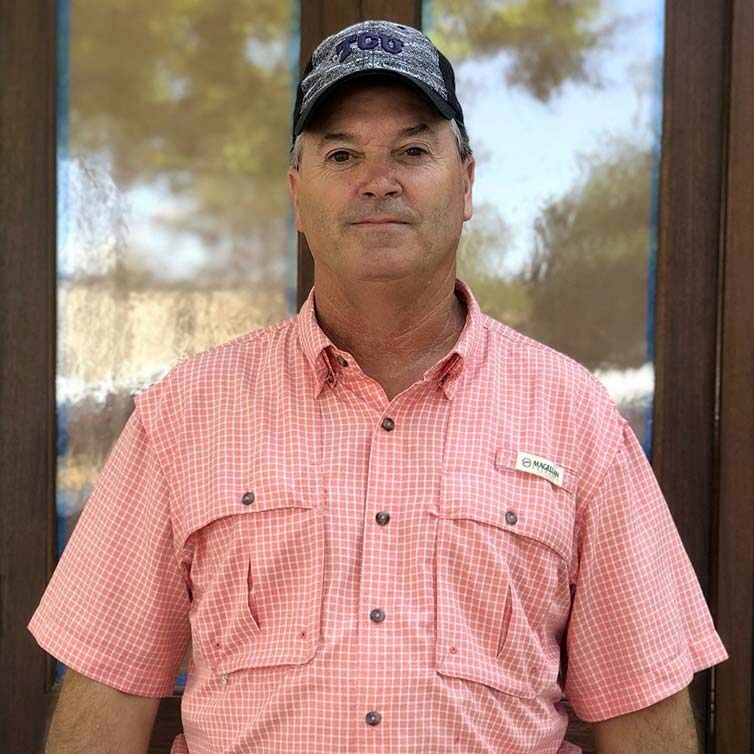 Jerry Kirkland
Some people are born to work with their hands. It seems Jerry Kirkland was born to woodwork with his. His first tool was a hand crank drill press, which taught him how to "feel the wood," he explained. At a very young age his Dad set the foundation, sending him to fetch tools while working on the family car and explaining the way a tree grows when chopping firewood together.
Growing up he was taught work ethically, with critical thinking and how to work with his hands, but he lacked the mentorship from someone who could have first identified and then encouraged him to pursue his gift from an early age. Instead Jerry followed a more traditional path, taking college courses toward a degree in the computer field and even considered architecture at one point, but he couldn't stop thinking about working with wood.
On his walk home from class one day he was reflecting, asking himself the all too familiar question those who have spent time soul searching would understand, "what should I do with my life?" As he walked, he held a piece of wood in one hand and a knife in the other. By the time he arrived at his destination, he looked down and discovered he had whittled a rabbit, "thumper," he exclaimed. The answer was right before his eyes. From that moment on he committed to learning his craft, taking a job at a cabinet shop rebuilding antique cabinetry where he honed his skills and gained an understanding of woodworking machinery. It wasn't long until he realized he had a natural gift. His ability to see the whole picture and the end vision described by clients set him apart from the rest. As his repertoire grew, so did his confidence and he thrived on challenge, sharing that he loves proving people wrong when faced with a seemingly impossible task. When the opportunity to team with Stephan Courseau in building his latest restaurant concept Georgie was presented, he knew he was the right fit. As we sat in the restaurant Jerry pointed out the coffered ceilings explaining that it gives the illusion of separate rooms while maintaining an open setting. His favorite part of the project had been the problem solving component, getting almost giddy as he detailed how he and the architectural team had to figure out how to accommodate for the air conditioner ducts and ultimately it was only a 4" piece of wood strategically placed that fastened each ceiling piece in place. It required out of the box thinking coupled with practical application to accomplish the goal. The woodworking component, started in May is all but done in preparation for the Georgie opening date set for early November. As we admired his work, Jerry pointed out Marissa Kenney, aka Nemo, his apprentice who was buzzing around the work site. He shared that she was the only one out over 70 applications he received from a recent job posting who had made the cut, and it was only because she had basic knowledge of tools and expressed some curiosity about the position. "People these days aren't shown how to work with their hands, how to problem solve," he said. "I used to cull my apprentices from workshop class at local schools, but since it's been removed from school programs I fear woodworking is a dying craft. I'm no longer able to find candidates willing and ready to learn," he continued. The name of Jerry's company, Pantheon Commercial, is a name derived from his favorite basilica or church in Italy and he described it as timeless, constructed in a way meant to last. As I finished up with Jerry and thanked him for his contribution, I couldn't help but notice he was beaming with pride, joy and truly seemed satisfied. It was obvious Jerry takes pride in his work, as he proclaimed he gets the job done right. It's also apparent he feels honored that he is one of the lucky ones to be doing what he loves. He expressed his gratitude for the opportunity to work with Stephan and Dany Courseau. Jerry said, "when people care, like Stephan and Dany, great things happen and success follows." As I walked away with Jerry's story fresh in mind, I couldn't have agreed more. I realized that Georgie is more than a restaurant, it's being built by individual people with passion and specialized gifts, everyday people like Jerry who care and who are lucky enough to have found their calling. We all have gifts, some lucky enough to make it their life's work. Thankfully, Jerry's can forever live on through Georgie.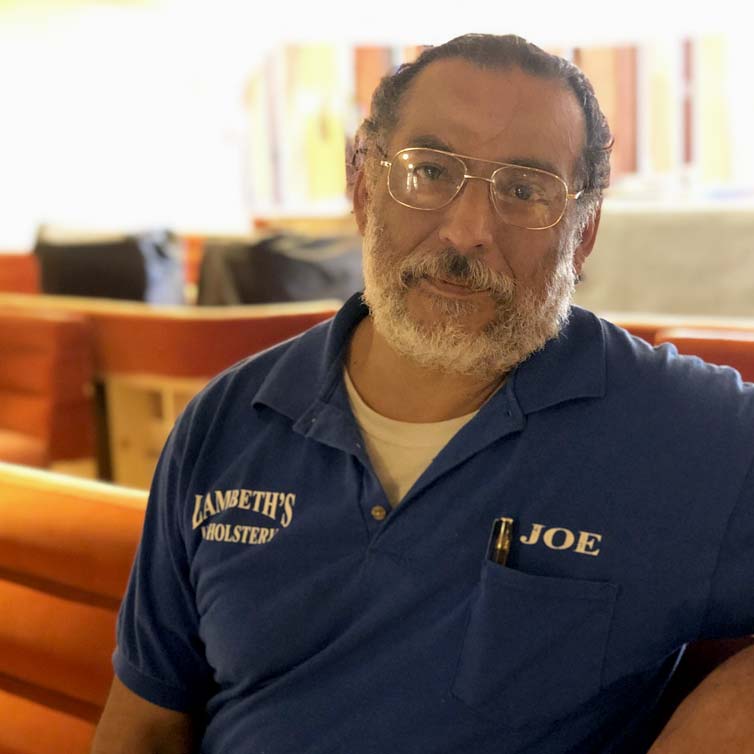 Joe Toledo
Joe Toledo of Lambeth Upholstery & Booth Manufacturing has done it all, from security officer to bouncer, but twenty two years after getting hired by Sherry Lambeth he hasn't once looked back. One might say he has mastered the trade of creating breathtaking upholstered booths, and if you have been to Knox District restaurants Le Bilboquet or Up On Knox, odds are you've enjoyed dinner while sitting on some of his hand crafted work.
"I'm super proud of this particular project," Joe said referring to the orange felt upholstered booths that make up the interior of the restaurant Georgie. "This project really took me out of my comfort zone and showed me that anything is possible," he added. The way it is laid out is a real eye opener, according to Joe Toledo. We at Georgie have to say we concur.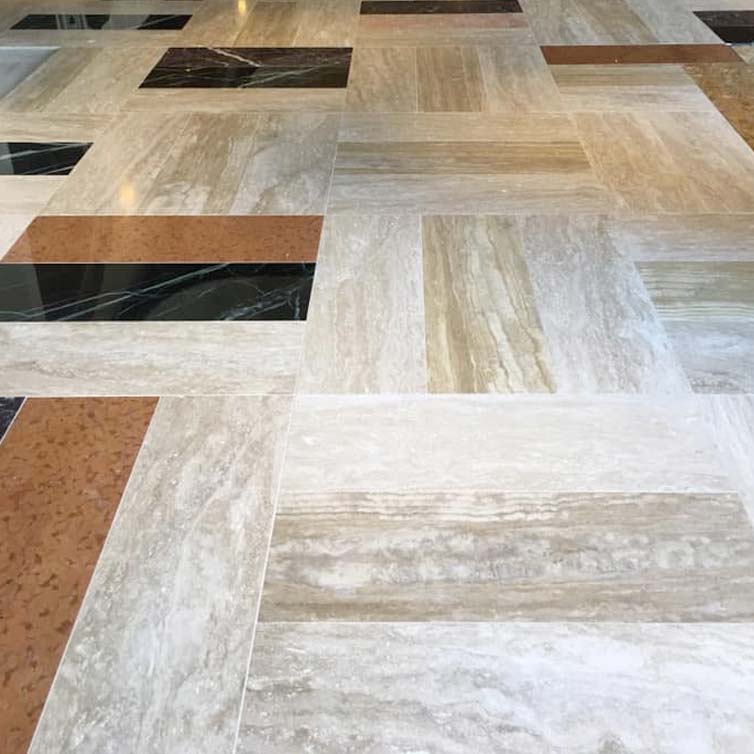 Zeus Floors
Anibal of Zeus Floors spoke proudly of the final result when I called to interview him about the marble, floors, and tiles that cover the entire dining room and bathroom at Georgie. "Unique to Georgie is the floor, made up of marble in a tile sized cut," he shared. "The entry-way was challenging because there are so many colors and the pattern was like trying to piece a puzzle," he added.
The floor composed of travertine and marble which are a natural stone consists of seven different components, the most Anibal said he's ever worked with at one time. The entire bathroom was no exception to the attention to detail asked of Anibal by the architects, which consisted of very small 2x4 heap tiles from floor to ceiling. "I like the color combination most," he concluded. We at Georgie hope our guests will appreciate the color and details, too.
Our Farm Partners
---
At Georgie we stand by our commitment to adhere to a strict philosophy of quality sourcing and believe this is the foundation to accomplish our goal of offering cuisine executed to the highest culinary standards. At Georgie this goal is accomplished through experience working with farmers and ranchers within our community, our relationship with those individuals, and a dedication to continually seeking out the best product available.